So you want to watch HD movies, but you're unsure which laptops to look at, right? I understand the issue since there are so many laptops available these days.
There are a few notable specs that are essential. These are things that the best laptops for watching movies should all have, but not every laptop is up to scratch.
I'll cover the laptops first, then discuss the specs later. Read on to find out more!
The 10 Best Laptops for Watching Movies and Livestreams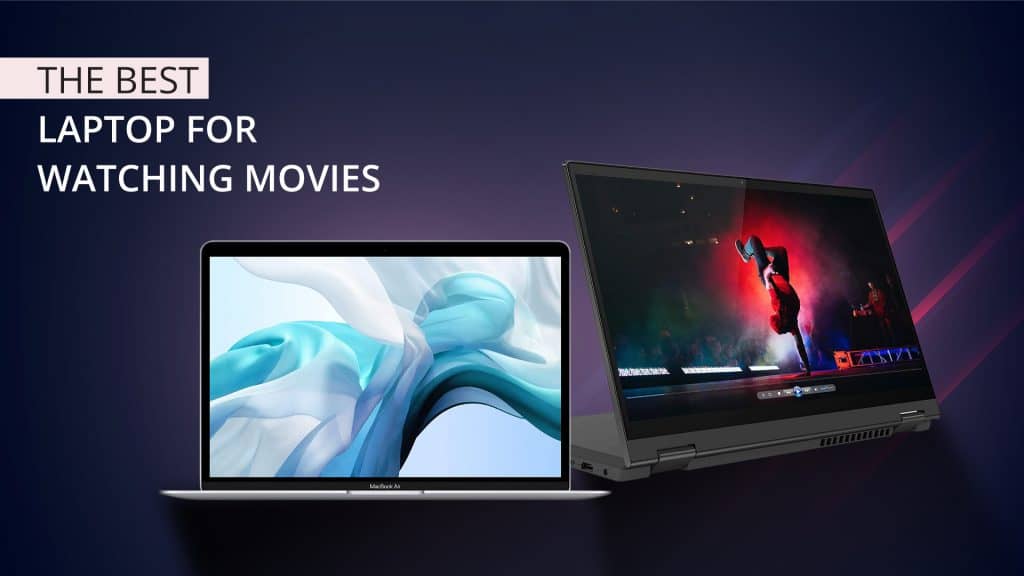 Here are the best laptops for watching movies and more!
Features
10-core Apple M1 Pro CPU
1TB of SSD storage
16-inch retina display
16GB of RAM
An almost 4 K Screen resolution
If you've got deep pockets, you'll enjoy watching movies on this behemoth of a device! The Apple Macbook Pro is a sleek yet thin device that is the pinnacle of Apple's mobility.
This is the best laptop for watching movies because of its top-of-the-line specs, but it's got a price to match!
And speaking of resolutions, you can fully appreciate the picture quality thanks to this laptop's massive 16-inch screen. It's even usable outdoors, thanks to its nigh-obscene max brightness.
With a maximum brightness of 1600 nits, this laptop can be used to watch movies outdoors so that you can take this perfectly fine outside the office.
While you can use the headphone jack on this device, it would be a waste of its excellent built-in speaker system, so that I would advise against it.
This device is an all-rounder laptop that will excel at (almost) everything you throw at it, all while outputting incredible video quality at high resolutions.
Note that this is the model with a 16.2-inch display, but you can also get the Apple Macbook Pro with a 14.2-inch display. You can pick up the Apple Macbook Pro here.
Sale
Apple 2021 MacBook Pro (16-inch, M1 Pro...
Apple M1 Pro or M1 Max chip for a massive leap in CPU, GPU, and machine learning...
Up to 10-core CPU delivers up to 2x faster performance to fly through pro...
Up to 32-core GPU with up to 4x faster performance for graphics-intensive apps...
PROS
Amazing battery life of up to 21 hours
Can utilize multiple external displays
M1 Pro CPU is stronger than an Intel core i7 chip
CONS
More expensive than some desktops
A large screen may be too bulky for some users
Lacks USB-A ports
Features
8-core Ryzen 7 4700U processor
14-inch IPS display
16 GB of 3200Mhz RAM
512 GB of SSD storage
Glossy touchscreen
This device lives up to its name as a 2-in-1 laptop ideal for watching movies! Thanks to this device's powerful hinge, you can enjoy it in either laptop mode, tent mode, or tablet mode.
Most 2-in-1s walk a taut tightrope between "affordable but inefficient" and "Great value." The Flex 5 defies this by being both competitively priced and offering good value.
It's a little overkill, but this hybrid device comes with 16GB of RAM in its slim chassis. You won't have to worry about overloading it with internet tabs or your favorite videos.
The integrated Radeon graphics it comes with won't be enough for the latest and greatest games, but you can still use it to play more casual, less resource-intensive games.
However, the Flex 5 lacks in 1 big way for a video-watching device. Its brightness caps out at a measly 250 nits!
This is too dim to enjoy movies or live streams, so I suggest you use this device only indoors. If nothing else, you won't have to plug this little touchscreen in!
It's got a long battery life of over 10 hours, and you can turn the keyboard's backlight off to stretch it further. You can pick up a Flex 5 here.
Lenovo IdeaPad Flex 5 2-in-1 Laptop, 14"...
【Authorized WOOV 32GB Micro SD Card】AMD Ryzen 7 4700U Processor (8C / 8T,...
14 inch FHD (1920x1080) IPS 250nits Glossy Touch Screen, Integrated AMD Radeon...
16GB DDR4 3200 Memory, 512GB SSD PCIe NVMe Storage
PROS
It comes with touchscreen capabilities
Features a built-in HD webcam
The backlit keyboard is ideal for indoor use
CONS
The maximum screen brightness is fairly dim
The screen may be too reflective under bright lighting
It does not come with the Lenovo stylus
Features
4-core Ryzen 3 3350U processor
10 hours of battery life
15.6-inches Full HD display
265GB of snappy SSD storage
3 USB-A ports and 1 USB type-C port
In a world of powerful laptops, the Aspire 5 Slim is a trusty, affordable laptop ideal for watching movies and getting light tasks done.
Unlike most devices, the Aspire 5 Slim runs Windows 10 in S mode. This is a minor grievance, as it can be easily fixed by upgrading to the regular version of Windows 10.
Remember that taking Windows 10 out of S mode will mean losing the battery power savings S mode provides, but you likely won't miss it outside of that.
As a slight point against the Acer Aspire 5 Slim, it's only got a 256GB storage capacity. I recommend picking up an external storage drive so that you can store more movies.
The SSD this comes with will ensure that any movies you download open at quick speeds, so you can get straight from picking to watching!
Its slimmer side-bezels and 15.6-inch screen are ready to play your favorite high-resolution videos in all their glory.
Unfortunately, Acer hasn't moved on from their thick upper and lower bezels, but that's a very small gripe. You can pick up an Acer Aspire 5 Slim here.
acer 2021 Aspire 5 Slim Laptop 15.6" FHD...
【AMD Ryzen 3 3350U】AMD Ryzen 3 3350U Processor, Quad-Core, 2.1 GHz Up to 3.5...
【15.6" FHD IPS Display】15.6" Full HD (1920 x 1080) widescreen LED backlit...
【Upgraded to 8GB RAM】Adequate high-bandwidth RAM to smoothly run multiple...
PROS
Fingerprint reader to keep your laptop secure
3 fan modes for different usage scenarios
Wide selection of USB ports
CONS
Relatively small storage capacity
Runs Windows 10 in S mode
Blocky upper and lower bezels
Features
8-core Apple M1 processor
13.3-inch Retina display
512 GB of SSD storage
Almost 18 hours of battery life
16 GB of RAM
The Macbook Air is the smaller cousin of the Macbook Pro above, but its size belies its power! As the slim and sleek laptop you all know and love, this device maintains Apple's reputation.
Apple's known for making professional-looking laptops that are perfect whether you want to watch movies or get work done, and the Macbook Air is no exception.
Thanks to the patented Retina display on the Apple MacBook Air, you won't have any image quality issues. You'll marvel at the HD quality of any video you watch on this laptop.
You won't have to worry about background music and muffled dialogue. The Macbook Air's speakers are balanced and can simultaneously output sounds across the spectrum.
However, there is one large issue with this laptop. Apple had to severely limit the selection of ports on the Air to achieve a long battery life and excellent speakers.
If you want to connect anything that isn't USB-C to this laptop, you'll need to get an additional dongle hub for more connection options.
Apart from the USB port issue and its fairly hefty price tag, this Apple laptop is a complete package. You can pick up this smaller Apple laptop here.
PROS
M1 CPU is both powerful and power-efficient
It comes with a 1-year limited warranty
Powerful and balanced speakers
CONS
Extremely lacking selection of USB ports
Pricier than its competitors
Storage and RAM are soldered onto the motherboard
Features
Fingerprint reader for additional security
11th-gen Intel core i7 chip
512 GB of storage
14-inch Full HD display
Backlit keyboard for dim areas
The Swift 3 has a native screen resolution of 1920×1080, which means it has enough pixels to use its Full HD screen fully. It's also fairly light for a traditional laptop, at 2.65lbs.
However, don't think that this weight means they skimped on battery life! You can expect up to 16 hours of use from a single charge on this clamshell device.
As a more general-usage laptop, you won't see any Swift models packing an NVidia GeForce GTX graphics card, but this device isn't completely ill-equipped for graphical tasks!
The Intel Iris Xe integrated graphics should be enough for a night full of movies and video streaming, and it'll be backed up by both the storage and memory in the Swift 3.
Fortunately, Acer got the memo, outfitted this device with a standard 8 GB RAM, and gave it a 512 GB SSD. Note that you can't upgrade the RAM, so ensure you've got enough!
Heading back to the externals, the Swift 3 has a fingerprint reader that will make your movie-watching machine more secure.
To sum up, this device is affordable, simple, and has no frills. You can get a Swift 3 here.
acer Swift 3 Evo Thin & Light Laptop...
【4-core Intel Core i7-1165G7】11th Generation Intel Core i7-1165G7 processor...
【14" FHD Widescreen Display】14" Full HD (1920 x 1080) IPS Widescreen...
【Upgraded to 8GB RAM & 512GB NVMe SSD】With higher bandwidth, you get more of...
PROS
Intel Evo-certified
Respectable battery life
Wide selection of USB ports
CONS
The power button placement isn't ideal
Plain and stale design
RAM isn't upgradeable
Features
11th-gen Intel Core i5 processor
Anti-glare technology
17.3-in Full HD screen
Up to 32 GB of RAM
Up to 2 TB of storage
The Pavilion 17 has a fairly big screen for a laptop, which matches its name completely. This desktop-replacement device is larger than even the Apple Macbook Pro above.
You'll be able to enjoy movies in stunning high definition thanks to this laptop's large IPS display, but I suggest mainly using it indoors. Unfortunately, this laptop is fairly dim.
With a maximum brightness of only 300 nits, the Pavilion 17 isn't exactly suitable for outdoor usage, but it does pack an anti-glare screen. If you need to use it outside, find some shade!
Another slight point against this laptop is its bulkiness. The larger a laptop gets, the heavier and less portable it becomes, and the Pavilion 17 is plenty large.
Outside of portability and looking at it strictly as a desktop-replacement device, it's an excellent choice. The Pavilion 17 is like a clamshell mini-home theater and productivity device.
Speaking of productivity, this laptop is the ideal student's laptop because it's got a G-series 11th-gen Intel Core i5 processor. The CPU makes this a hybrid device that can handle work and play.
The base model-Pavilion 17, features a 512 GB SSD and 16 GB of RAM, but you can bump it up to 32 GB of RAM and a 2 TB SSD. You can pick up an HP Pavilion 17 here.
HP Pavilion 17 Laptop, 17.3" FHD IPS...
【Processor】Intel Core i5-1135G7 (up to 4.2 GHz with Intel Turbo Boost...
【Display】17.3" diagonal, FHD (1920 x 1080), IPS, anti-glare, 300 nits, 100%...
【RAM and Storage】RAM is upgraded to 32GB high-bandwidth RAM to smoothly run...
PROS
Has integrated Intel Turbo Boost technology
Features Intel Iris XE graphics
100% sRGB is capable of more colors
CONS
The headphone jack is placed too far back
No backlit keyboard
Thick and unsightly bezels
Features
12th-gen Intel core i7 processor
16 GB RAM
512 GB SSD
It comes preloaded with Windows 11
Supports USB-C charging
Coming in at just over 1Kg, the Galaxy Book2 Pro is like a cheat code from Samsung! Despite being packed with a 12th-gen Intel core i7 chip, this laptop's still a thin and light device.
The thinner a device is, the fewer USB ports it'll have since ports tend to add thickness and depth to a device. This laptop defies that by having a surprisingly robust selection of ports.
Moving on to the screen, it's a nice and crisp OLED panel with a 1920×1080 screen resolution and a 16:9 aspect ratio. In a nutshell, it's perfect for watching high-definition videos and films.
The Galaxy Book2 Pro is ideal for general web use and productivity, thanks to the powerful processor inside. This is a sleek and professional laptop that would look at home at school, or in the office.
You can leave your charger in your bag with this laptop since it gets a good battery life of roughly 8 hours. The Galaxy Book2 Pro supports USB-C charging and the charger's light.
As a final plus, this laptop has full integration with Samsung's ecosystem of devices so that you can use it seamlessly with your Samsung phone or a Samsung S Pen.
Depending on your model's configuration, you can get a 256GB, 512GB, or 1TB model. You can pick up a Samsung Galaxy Book2 Pro here.
Sale
SAMSUNG 15.6" Galaxy Book2 Pro with...
POWERFUL, FAST, AMAZING: Our new laptop is packed with the premium performance...
PREMIUM PERFORMANCE W/ INTEL ARC: With Intel ARC discrete GPU and 32GB of...
THIN, LIGHT, POWERFUL: With a PC this powerful, you'll want to take it with...
PROS
Fingerprint scanner for easier unlocking
Features a 1080p wide-angle webcam
Extremely slim and lightweight design
CONS
Higher-spec configurations can get very expensive
Graphite-colored model easily picks up smudges
The full-sized keyboard has shrunken keys
Features
11th-gen Intel core i7 processor
Anti-glare display with a 16:10 QHD aspect ratio
512 GB storage
Wi-Fi 6 connectivity
NVidia GeForce MX450 graphics card
The Inspiron 13 5310 is a bit of an oddity in this laptop lineup. Despite being a productivity laptop, it has a gaming laptop-grade processor and a discrete GPU.
The Dell Inspiron has always been aimed at casual use as opposed to professionals, but the Inspiron 13 5310 has enough grunt to change this course slightly.
With an H-series processor and a lightweight, discrete GPU, this device can lend itself towards either productivity or light gaming, depending on what you plan to use it for.
It's also no slouch if you want to watch movies on it since it packs a QHD screen in its compact 13.3-inch form factor. It's not quite 4K yet, but it's more pixel-dense than FHD.
Unfortunately, the slim design of this laptop means its selection of ports is lacking. It doesn't have an SD card reader or an ethernet port, so you'll have to rely purely on Wi-Fi.
Apart from the port selection issues, this laptop's already beefed-up cooling system has some issues bringing out the full potential of its RAM and GPU while in-game.
This laptop may not run high-spec games, but it will brighten up your movie nights and keep you watching more videos! You can pick up a Dell Inspiron 13 5310 here.
Sale
Dell Inspiron 13 5310, 13.3 inch QHD...
Aspect Ratio:16:10
WINDOW 11: Free Upgrade to Windows 11 when available (see below)
STUNNING VISUALS: Vivid color with less blue light on the 16:10 QHD display...
PROS
Comfortably-spaced keyboard
It comes with a lightweight dedicated graphics card
It has a robust cooling system for a thin and light laptop
CONS
RAM is not upgradeable
It lacks an SD Card reader
System cooling can't handle the powerful parts
Features
12th-gen Intel core i7 processor
NVidia Geforce RTX 3070Ti GPU
15.6-in FHD 360Hz display
1 TB SSD storage
16 GB of 4800MHz RAM
Razer is a premium gaming laptop brand, but you don't have to stick to gaming on their devices. The power in this chassis is more than enough for watching movies!
You won't get a retina display with the Blade 15, but you can get extremely close. With the wide variation in screen resolutions and refresh rates, you can customize your Blade.
I'd recommend getting the QHD 240Hz display option since the 360Hz option won't significantly impact your movie streaming experience. You can even take the Blade 15 on the go!
This laptop can be shuttled from home to school or work without worry. The Blade 15 is made from aluminum, giving it a tough and rigid chassis that can stand up to (almost) anything.
Another point for the Blade 15 is its upgradability. You can add more RAM or an additional SSD if you need to store more movies and TV shows later.
The one large flaw in this laptop's design is its battery life. All those powerful parts under the hood take a toll, so that you can expect roughly 3 hours of battery life from this device.
Like most of Razer's lineup, the 2022 Blade 15 is meant to deliver uncompromising game performance, but it can handle other tasks just as well. You can get a Blade 15 here .
Razer Blade 15 Gaming Laptop: NVIDIA...
NVIDIA GeForce RTX 30 Series Graphics for Stunning Visuals: Built on NVIDIA's...
Intel 11th Gen 8-Core CPU for All-out Gaming Performance: Run the heaviest AAA...
Next-gen Displays to Meet Your Needs: Go with ultra-fast 360Hz FHD for...
PROS
Desktop-level performance in a slim and sleek chassis
Incredibly wide selection of USB ports
Wider and more comfortable spacing between keys
CONS
Extremely expensive for a laptop
Laptop design remains unchanged
Extremely poor battery life
Features
10th-gen Intel core i7 processor
Touch screen with bonus screen pad
NVidia Geforce RTX 3070 graphics card
1 TB of SSD storage
16 GB of RAM
Asus' Zenbook line of devices is thin, light laptops with premium parts and different sizes. The Pro Duo 15 is like a convertible without the flexibility, and that's a compliment!
With 2 screens, both packing 4K display resolutions, the Pro Duo 15 is a testament to Asus's commitment to bringing out the best in their machines.
As if daring other laptops to compare, Asus has also outfitted both screens in this device with touch screen capabilities. This isn't just a device for watching movies; It can make them, too!
However, whatever you decide to do with this laptop, it'll be able to handle it. Thanks to its 16GB of RAM and NVidia Geforce RTX 3070 GPU, the Pro Duo is excellent for creative work!
A slight issue is with the keyboard and trackpad placement. Left-handed users may prefer to use an external mouse since the trackpad is squished into the bottom-left corner of the deck.
The keyboard's placement is also odd, but Asus has added a detachable palm rest for an easier typing experience.
This behemoth of a machine has something for both casual users and content creators, but you'll probably pick up this laptop for editing videos. You can pick up a ZenBook Pro Duo here.
Sale
ASUS ZenBook Pro Duo 15 OLED UX582...
Professional-grade performance: With a 10th Generation Intel Core i7 processor,...
Amazing visuals: this 15" touchscreen laptop has a 4K OLED HDR NanoEdge...
Extreme durability: Durable laptop that meets ultra-demanding military standards...
PROS
It has a 4K screen for immaculate picture quality
Processing power is matched by graphical grunt
Powerful enough for both movies and video editing
CONS
The touchpad position may be uncomfortable for some users
Pricier than its competitors
The comparably poor typing experience
Specs to Consider When Choosing a Laptop for Watching Movies
Before you get any further, remember that you can also consider this a general list of specs for all laptops, and not just dedicated movie-watching laptops.
Display
Your laptop's screen needs to fit a few basic requirements if you want to watch movies on it. After all, it's the part of your device you'll be looking at the most!
You might experience eyestrain after staring at your laptop for a while. Invest in a model with an anti-glare screen to lighten the load on your eyes.
Whether your laptop has a screen resolution of 1920×1080 or 3840×2160, ensure that it's proportionate to the size of your laptop's display.
A laptop with the wrong display resolution will be blurry and result in eyestrain issues for anyone using it. Don't forget the laptop's brightness; A brightness of 300-400 nits is ideal.
Speakers
While having an FHD display is a big plus, the best laptop for watching movies needs powerful and even speakers to elevate your movie watching.
Other laptops have speakers that are pure power and noise, but you'll have difficulty hearing anything clear. If you want a great laptop with strong speakers, go for one of Apple's laptops.
Apple's laptops all tend to have clearer and more balanced speakers than their competition. Most laptop brands don't give their speakers the same deluxe treatment.
Of course, you can solve your speaker troubles by using your laptop's headphone jack instead. This is only useful for solo movie nights.
Storage Capacity
This won't be an issue if you plan on watching movies purely through video streaming. You can get by on your Wi-Fi speed and your laptop's ability to latch on to a signal.
However, some folks (like me) prefer to keep copies of the movies they watch and need more storage space for games, documents, and other media files.
Get an HDD if you're shopping for laptops on a budget, but aim for one with SSD storage if you have the budget to spare. An SSD will load your stored files faster and make your entire laptop snappier.
Laptops with a 1 TB SSD tend to be expensive, so I recommend finding one with a 256-500 GB SSD instead. Remember that HDDs are still a stable and long-lasting option.
Battery Life
A full night of watching movies can take a toll on your laptop's battery, so ensure that your laptop has a decent battery life! Otherwise, prepare an extension cord or stay plugged into the wall.
If you live in an area prone to brownouts or power outages, you may want to supplement your laptop's battery with a battery backup.
However, keep in mind that the battery of most laptops should be capable of lasting you a while even when unplugged unless your super-powerful processor sucks up a lot of juice.
A marker for "good" battery life should be enough for an entire work day unplugged, so that's about 7-9 hours of uninterrupted use.
I suggest lowering your display's brightness a bit to stretch the battery.
Portability
Your laptop should have decent performance regardless of what you plan to use it for. But what if you need to bring it outside of the house?
Some laptops are simply more portable than others, which comes down to design and simple weight. It's fine if you never intend to bring your laptop outside, but you never know.
People who find themselves traveling constantly would likely prefer an ultra-thin design instead of a bulky gaming laptop.
Get a laptop that weighs less than 2Kg so you won't put any undue strain on yourself while you're on the go.
CPU
Your processor is the brain of your laptop, but you don't need a powerful processor in a dedicated movie-watching laptop.
However, you might want one for different tasks outside of streaming videos, so look for an Intel core-equipped device. Aim for a processor with 4 to 8 cores for efficiency.
If you're a fan of AMD processors, some of the laptops here also fit the bill. Their mobile CPUs have improved greatly since 2020, so they can stand toe-to-toe with Intel core processors.
GPU and RAM
With a sufficiently beefy dedicated GPU, you won't just have a laptop for watching movies; You'll have a powerhouse capable of playing video games and streaming them, to boot!
However, note that your NVidia GeForce GTX-powered laptop won't be able to stream movies better than a laptop without a dedicated GPU. Your gfx card isn't a factor for better streaming.
Many laptops discussed here have graphics cards more suited for light gaming, but they'll be just right for streaming movies. RAM is quite a different story.
Unless you have a very tight budget, I'd recommend getting a device with at least 8 GB of RAM for a smooth experience. Your other non-streaming tasks will benefit greatly.
Port Selection and Connectivity
USB ports are vital, if often overlooked, to make an excellent laptop. If your laptop's display doesn't pass muster, you can create a makeshift home theatre instead!
Ensure that your device has at least one HDMI port if you want to connect to an external monitor. This will let you take advantage of a bigger screen for watching movies.
However, if your laptop for watching movies has a great display, you can move on to its internet capabilities.
You'll need a laptop with a good Wi-Fi pick-up if you want to stream high-definition videos. Or you could upgrade your router and internet plan to ensure a solid streaming experience.
Frequently Asked Questions (FAQs)
Read this section to learn more about the best laptops for watching movies!
Is 4 GB RAM Enough for Watching Movies?
Simply put, no. 4 GB of RAM is barely enough to open Windows 10 and a few programs besides. If you want to watch movies on top of that, then you'll be in for a slow time.
Don't just stop at potentially watching movies; Consider what else you'll be doing with your laptop. If you intend to use it for anything remotely graphically intensive, 4 GB won't be enough.
Aim for a laptop with at least 8 GB of RAM as the bare minimum, and beef it up to 16 GB if you plan to play games or do creative work on your device.
Do You Need a Good Graphics Card for Watching Movies?
The most important specs laptops for watching movies will need are listed above, and though I included the GPU, graphical performance won't affect your movie nights.
That's because your laptop's iGPU or integrated gfx card will be able to handle any movies you plan on watching. Hence, a dedicated GPU like an AMD RX 6600M or NVidia RTX 3080 is unnecessary.
Make sure your laptop has a leg up for video streaming by giving it enough grunt to load HD videos.
You'll be fine with a device with anything from a 12-gen Intel core i3 processor to a 12-gen Intel core i9 processor, but high-end processors are overkill for watching movies.
Will a Higher Laptop Screen Resolution Hurt Your Eyes?
The short answer: Nope! The longer answer depends on a few factors, but a higher laptop screen resolution shouldn't harm your eyes.
As screen technology has progressed, eyestrain from consistent laptop use has become a recurring problem. However, it's not because of your laptop's display resolution.
A higher display resolution may be better for your eyes since a higher or more pixel-dense resolution will make a clearer image. This will put less strain on your eyes.
The issue primarily comes from poor screen habits. Have you noticed that you tend to lean closer to the laptop screen to read text? This strains your eyes more because the objects are closer.
Before identifying your Full HD display as the culprit, check whether the programs you're using scale properly to your display resolution and whether the screen is too bright or not.
What Are Viewing Angles?
The viewing angles on a laptop's display determine how far you can shift from the center without the brightness or colors changing on-screen.
Here's an example: Usually, you'd face your monitor straight ahead, right? But if your family is crammed together to watch movies on your laptop, you might have to sit off to the side.
A laptop with a wider viewing angle should still be as clear to anyone sitting off-center as it is to the person directly in front of the laptop.
Using an older TN-style display will result in color distortion issues, but viewing an IPS display should be fine whether you're looking straight ahead or off to the side.
Summary
I've gone over a few great laptops here, but here are the 3 best laptops for watching movies!
This budget pick from Acer is reliable in both form and function. The full-sized keyboard will also help if you work with numbers.
With an approachable price, an FHD IPS screen, and a good selection of ports, you won't have problems with the Aspire 5 Slim. Just buy some more storage if you want to watch more movies.
The Flex 5 is a convertible laptop that's perfect for watching movies thanks to its different modes. Whether seated at a desk or holding this in bed, it'll look stunning all the same.
Its AMD CPU is also speedy and power-efficient, so you won't have to worry about plugging this in during movie night.
The Macbook Pro is a 16-inch powerhouse that's perfect for almost everything you'll ever need it for. Despite their advancements elsewhere, gaming performance still eludes Apple.
A strong selection of USB ports and excellent speakers are only the first part of this device's 1-2 punch. The real star is its Liquid Retina display with intense colors and deep shadows.
Best Laptops for Watching Movies: Conclusion
Note that I've gone over a few laptops here that are strong enough to do more than just watch movies.
These days, most laptops are perfectly capable of streaming movies and then some, but sometimes you want more than just the bare-bones basics.
If you're willing to make a few small sacrifices regarding quality, you can easily save a fair chunk of change on your laptop for watching movies.
However, if you want the absolute best laptops for watching movies, be prepared to lighten your wallet for nigh-lifelike quality and decent screen size.